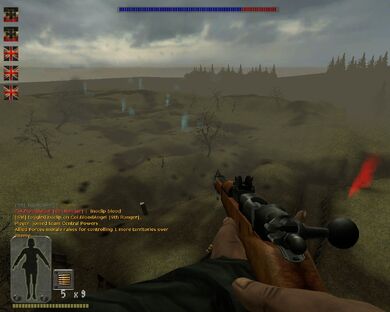 The Battle of the Somme, also known as the Somme Offensive, took place between the first of July and the 18th of November in 1916 on either side of the River Somme. The offensive ended with over 1 million casualties, making it one of the bloodiest military operations in history. The amount of casualties and destruction that this battle caused is well known, due to the prevailing thought before the battle that men would be able to "walk over the top and face no resistance (from the German troops)" as they had been shelling them for a long time prior to the offensive (This proving to be untrue, due to the failure of the shelling, with a third of the shells reported as not exploding correctly).
The Somme in WW1:Source
Edit
The Somme in WW1:Source (named ww_somme.bsp) is regarded as the best map for all game-modes, due to its excellent balance, giving neither side an unfair advantage. It is normally the default map that a server will load into, and is therefore the best known map in the game. The Somme is one of WW1:S's smallest maps, but due to its linear layout, more accurately depicts WW1 warfare, forcing troops to run directly at enemy trenches under heavy fire. This and the background sounds of the map make it one of the most atmospheric maps to play in WW1:Source.
The map was made by two of the original developers for the mod, Ztormi and Wickit.